Michael Gardner creates a masterpiece of technology, design and home performance at The New American Remodel.
BY Jessi C. Acuna

Local architect Michael Gardner is no stranger to showcasing innovation and design in his projects.  The sought-after designer has left his mark in Las Vegas' most prestigious neighborhoods – Spanish Trail, The Ridges, Ascaya.  So it's no surprise he was tasked as the visionary behind The New American Remodel, the official show home of National Association of Home Builders' annual gathering.  Located in a historic neighborhood on Pinto Lane, this is the first in Gardner's portfolio for his new all-in-one design-build service firm, Luxus Design Build.

You Previously did homes in 2013 and 2016.  What are some of the most innovative elements of the 2019 home?  Form a technology standpoint, the full integration of the home with the Crestron system, you're able to control everything. The home security, all of the lighting, your fire features, your television, all your mechanical systems are all integrated through an app.  You're able to control the house from within the home, out in the orchard or 10,000 miles away.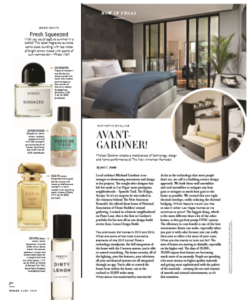 What about the sustainability standards? As far as the technology that most people didn't see, we call it a building science design approach.  We built these wall assemblies and roof assemblies to mitigate any heat gain or mitigate as much heat gain to the home as possible.  We created this nice tight thermal envelope, really reducing the thermal bridging.

Which feature would you like to see in other Las Vegas Homes as we continue to grow?  The biggest thing, which is the most different than a lot of the other homes, is this gas heat pump HVAC system.  The efficiency to cost benefit is one of the best investments clients can make, especially when you pair it with solar because you can really then start to offset a lot more of your costs.

What are the trends to look out for? The sizes of homes are starting to dwindle, especially on the higher end.  The days of 20,000-30,000-square-foot houses are becoming much more of an anomaly.  People are spending a lot more money on higher-quality materials and getting more sophisticated with the palette of the materials – creating the use and contrast of smooth and textural environments so it's this transition.

Original published in Modern Luxury Vegas Magazine.  To read more of the issue go to vegasmagazine.com.